The current volunteers were offered a trip over to the west side of Okefenokee National Wildlife Refuge on Wednesday. We were going to explore some of the paddling trails on the put-in at Stephan C. Foster State Park. Eventually one will again be able to paddle from the east entrance boat ramp to the west entrance boat ramp, a distance of about fifteen miles. A total of two staffers and seven volunteers did the trip in three flat boats after traveling the eight-five miles by road.
When you leave the boat launch, you take a canal out to the Suwanee River. A right turn takes you towards the swamp while a left turn lets you start down the roughly 240 mile trip to the Gulf of Mexico on the Suwanee River.
Getting ready
Leaving
Map of wild and scenic Suwanee River
View right after our turn into the main channel - think this is part of Suwanee River
Map showing our route from the park to Big Water Shelter




We were on the way to check out some of the camping platforms. We were also told we were going to have to help clear the canoe trails of impinging vegetation. This consisted of probably less than 100 cuts with loppers. We had three young volunteers with us and they did most of the work. I did some cutting too - at least six branches.
Turn from the boat lane into the canoe trails
As soon as we turned, we were in a cypress swamp
Workers hauling their clippings to an out-of-way place
After this hard work. out we were ready for a rest and snack at the shelter at Minnie's Lake.
One of the few day-use shelters - this on Minnie's Lake
Look sharp! In-coming supervisors
Two of a trio of young volunteers
These guys walked a huge fallen tree out to this log and then climbed up it -
I, choose not to have my picture taken here. :)
After all the boats rendezvoused at the Minnie Lake Shelter, we proceeded on to the Big Waters Shelter for lunch. This is eleven miles from the put- in, so makes for an easy day paddle. This was my favorite area and also seemed to be a favorite place for several alligators, thousands of white ibis, a score or so of anhingas and several herons - both little blue herons and great egrets.
The obligatory alligator shot - most were sunning after my camera died
Our boat captain, Volunteer Bruce
Arriving at Big Water Shelter
Anhinga drying its wings
Unloading for lunch
Beautiful close view
My favorite view - this from the Big Water shelter
Dinner guest
A piece of a sky full of white ibis - mostly juveniles


One of these is not like the others
I'm not sure which of the trails we paddled were old railroad trails. But several of them were trails left from the railroad lines used to log this area in the early 1900's. But, if our civilization lasts another 450 or so years, our descendants will once again be able to see awesome mature cypress trees.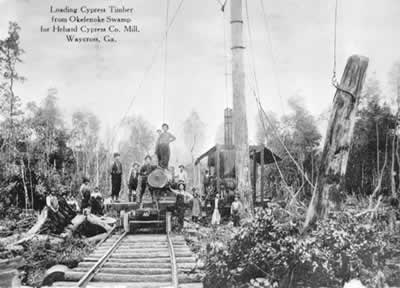 Cypress tree harvest by railroad in the Okefenokee (
see MORE
)
My battery died before we left the lunch platform so I can't show you Billy's Island. But there is not much left there of the town that once existed to server the swamp loggers. It even had the first movie theater in the county.
This was a wonderful gift from the refuge to us. Thank you Sarah and JD for taking a long day of your time to take us to this marvelous area.